Denver wins national award for innovation in election security
The Denver Elections Division of the Office of the Clerk and Recorder earned national recognition recently from the Election Center's Professional Practices Program for its implementation of 3D-printed safety and security devices.
Voting Systems Analyst, Keith Peterson, and the Denver Elections Division were presented with the Election Security award at the Election Center's 37th Annual National Conference which was held at the Grand Hyatt Hotel in Denver, Colorado.
The Denver Elections Division's practice of utilizing an in-house 3D printer to improve existing physical and technological infrastructure was recognized for innovation in election security and this award highlights the improvements, many of which are shared and emulated nationally, that the Division continues to make in service of voters.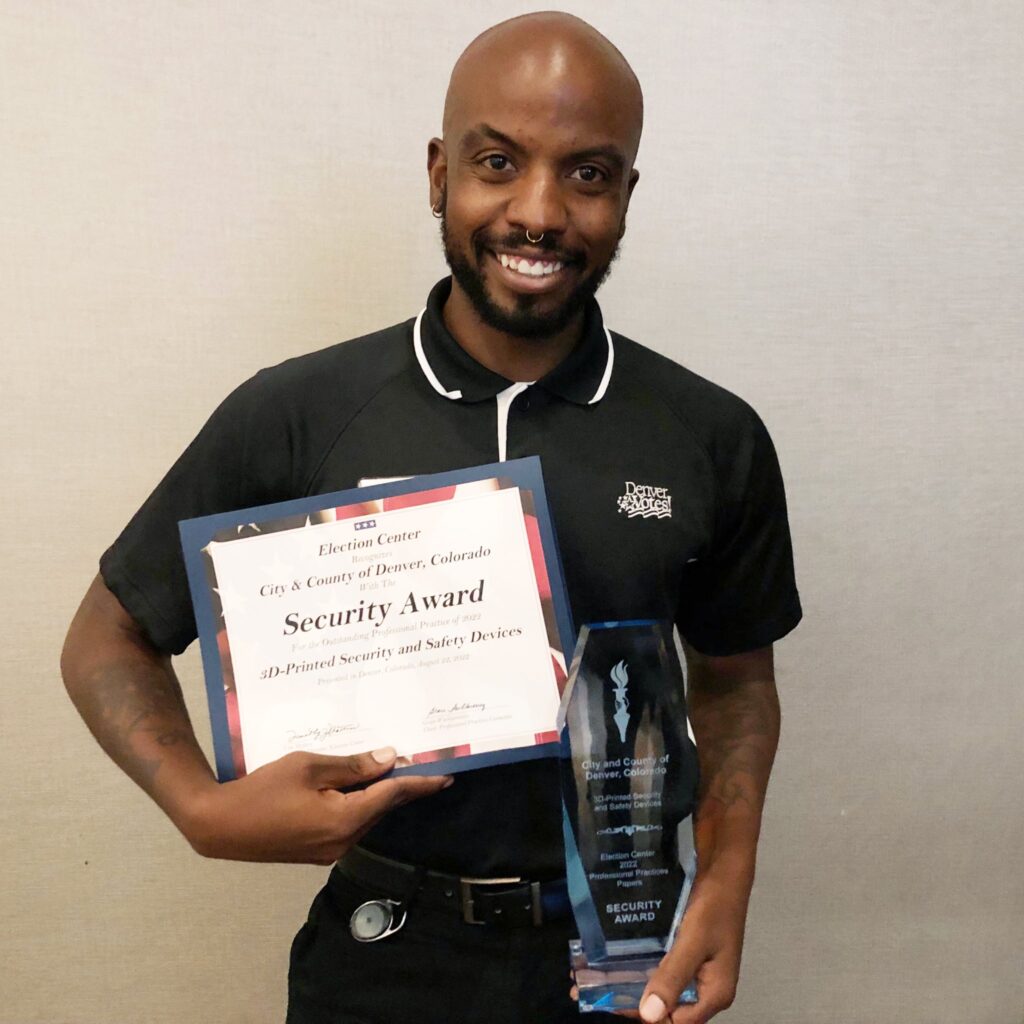 The 3D printers provide additional security to Denver's ImageCast X (ICX) devices through a streamlined anti-tampering system. ICX devices are used by voters to mark ballots, and plastic enclosures from the 3D printers were created to fit all major ICX connection points previously secured with traditional sticker seals. The enclosures hold the connections more securely, preventing external tampering, as well as reducing operator error.
The Denver Elections Division also created devices to enhance the security and functionality of 24-hour ballot drop-off boxes. A new 3D-printed insert filters ballots from errant materials, like trash. The device locks in place and still allows voters to seamlessly drop off their ballots while prioritizing election judge safety. A cover now guards the inner locking mechanism of the drop box from paper jams that might otherwise have inadvertently unlocked it.
The city of Denver will be holding general elections for the regional transportation district board, including a special election for the District I seat—county court judge, and district court judge on November 8, 2022.
In a few months, the city of Denver will also be voting for its next mayor and possibly deciding the next city council representative. With federal and state midterms still to come further down the line, the Denver Elections Division has been preparing really hard to ensure that the security measures around the voting system for upcoming elections remain foolproof.