Perhaps the most celebrated African writer on the continent today, Chimamanda Ngozi Adichie is a woman whose wealth of talent has not gone unnoticed. From her success in the publishing industry to her strides in the field of public speaking, she has made a name for herself. She is known all over the world for her unmatched achievements. However, not many can claim much knowledge about the woman behind all the acclaim. Hence, the need for us to shine a spotlight on the parts of her life which some might not be too familiar with.
Advertisements
There is no doubt that Chimamanda Ngozi Adichie is one of the most famous African women alive today. The 45-year-old Nigerian as she is today is nothing short of a phenomenon.
A modern post-colonial writer and an international icon of feminism, she has had her works translated into 30 languages, had two of her novels adapted for the screen, and is in constant demand for lectures, interviews, panel debates all around the world.
Chimamanda was born on the 15th September 1977 in Enugu, South Eastern Nigeria and is the fifth of six children to Grace Ifeoma and James Nwoye Adichie, her parents who were both staff of the University of Nigeria, Nsukka. While the family's ancestral hometown is Abba in Anambra State, Chimamanda grew up in Nsukka, in the house formerly occupied by the late legendary Nigerian writer Chinua Achebe.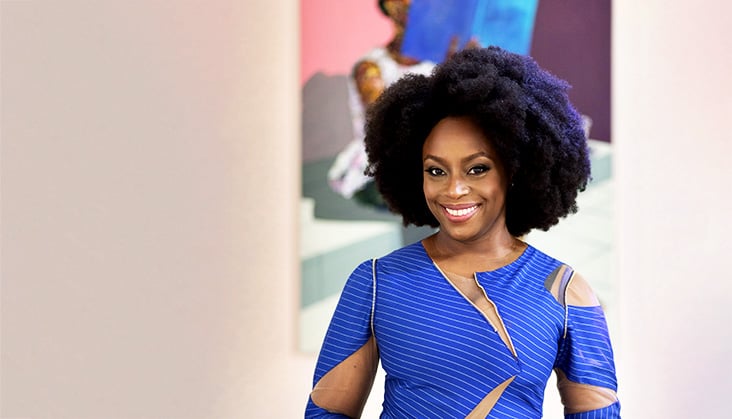 Chimamanda completed her secondary education at the University of Nigeria's secondary school, receiving several academic prizes. She went on to study medicine and pharmacy at the University of Nigeria for a year and a half. During this period, she edited The Compass, a magazine run by the University's Catholic medical students.
At the age of nineteen, Chimamanda left for the United States where she gained a scholarship to study communication at Drexel University in Philadelphia for two years, and she went on to pursue a degree in communication and political science at Eastern Connecticut State University, where she also wrote articles for the university journal, the Campus Lantern. While in Connecticut, she stayed with her elder sister Ijeoma, who runs a medical practice close to the university.
Chimamanda graduated summa cum laude from Eastern in 2001, and then completed a master's degree in creative writing at Johns Hopkins University, Baltimore. It was during her senior year at Eastern that she started working on her first novel, Purple Hibiscus, which was released in October 2003. The book was so successful and it received wide critical acclaim: it was shortlisted for the Orange Fiction Prize (2004) and was awarded the Commonwealth Writers' Prize for Best First Book (2005).
Growing up in a family which held literacy in such high esteem, it's perhaps easy to see why she was easily drawn to the allure of books. Throw into the mix that her family also stayed in the same house once occupied by Achebe and one starts to get the feeling that her destiny to become a writer was inevitable.
Currently living between the affluent neighborhoods of Lagos and those of Washington DC, Chimamanda slips effortlessly between the two cultures. While she may have had a privileged upbringing, she doesn't lack humility, is proud of her roots and constantly travels to her village whenever she can. "I am going to be a very happy village girl. Its home, it has many problems but its home. There is a saying I like: your mother is your mother even if one of her legs is broken."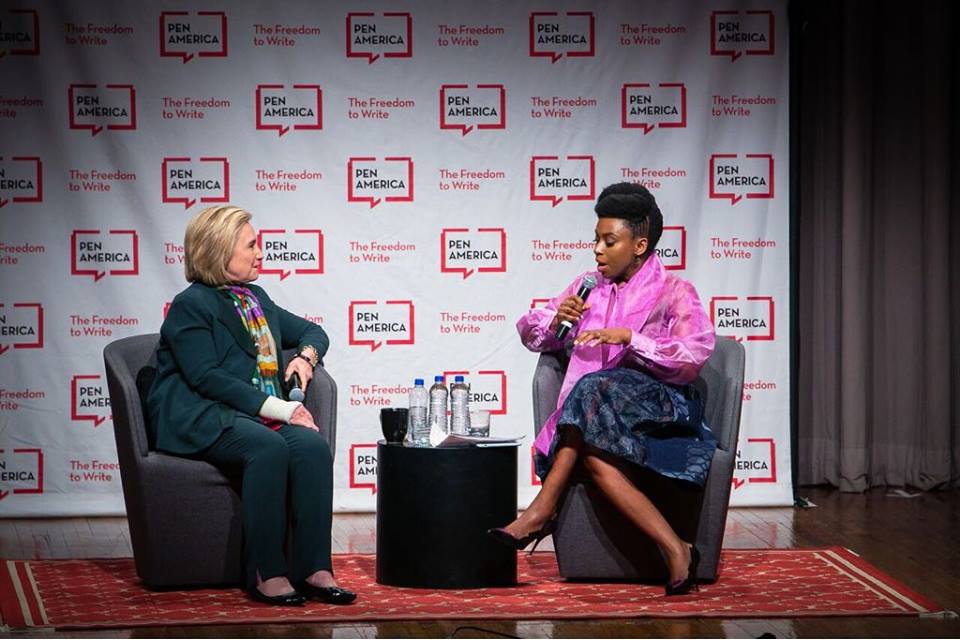 While she is undeniably proud of her roots, she makes it clear that she doesn't see herself as an ambassador of some sorts for her home country Nigeria. "I don't represent Nigeria; there are things about Nigeria I don't like, but at the same time I am very very proud of my Nigerian identity. I was born and raised in Nigeria, which I didn't leave until I was 19. I'm proud to be Nigerian, I'm proud to be African, I'm proud to be Igbo. I would not be who I am today if I wasn't all of those things. So, it's very important to me.
In 2012, Chimamanda gave a talk at a TEDx event, discussing gender and appropriation in the African cultural landscape. The speech was a reverberating discourse on the way society easily pigeonholes individuals based on predefined gender constraints. The speech gained additional attention after multi-Grammy-winning American pop star; Beyoncé used samples of the speech in her feminist song, Flawless. In her own words, I was surprised to get a standing ovation after my TED talk and then to hear that so many people had started to watch it. All I wanted to do was start a conversation and it became much bigger than I thought it would be; which made me very happy because it's important to talk about what women and girls go through everywhere in the world. But now people think I have all the answers to gender problems. I haven't – but I want to try to make a change.
I sometimes feel that people who know me only as a feminist don't really know me fully. I think of myself first as a writer, that's really what I am. I've been a feminist since even before I knew what the word meant: as a little girl I was always asking questions: "Why can't I do that?" "Because you're a girl." But I started talking about it because my literature has given me a platform to amplify my voice. The speech is considered today to be a starting-point for many discussions on feminism.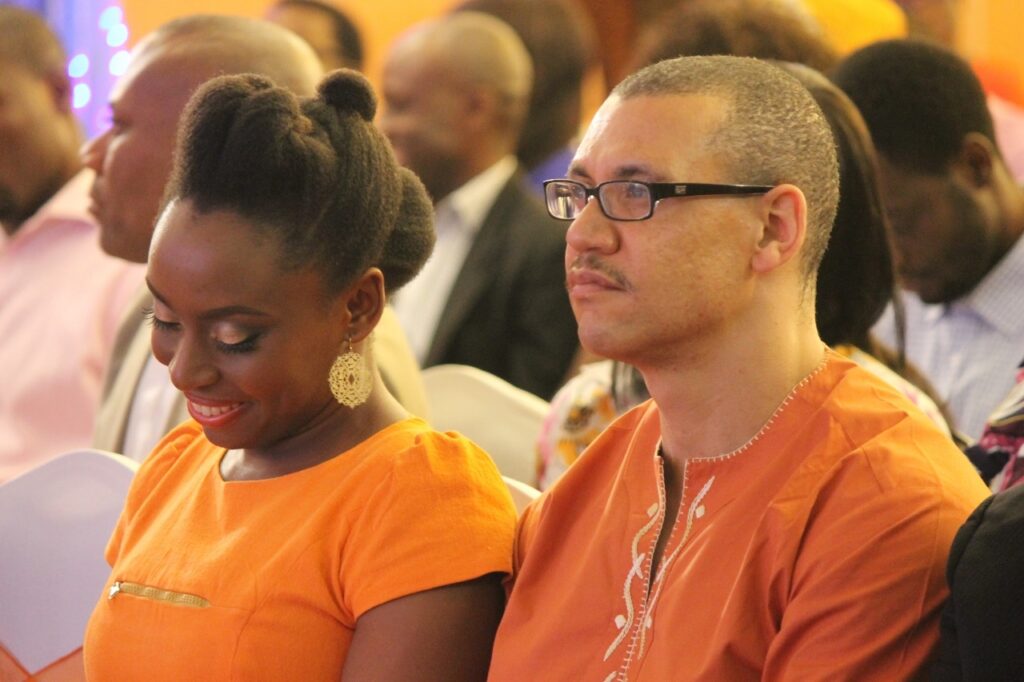 Chimamanda, over the course of her literary career has bagged nothing less than 15 honorary doctorate degrees from respected universities around the world including Doctor of Letters, (D. Litt) honoris causa, from Yale University; Doctor of Humane Letters, honoris causa from Georgetown University, Northwestern and American Universities; honorary Doctor of Fine Arts at Rhode Island School of Design and her latest honorary degree from the University of Fribourg, Switzerland in November 2019. Her 2009 TED talk, The Danger of a Single Story, is currently one of the most viewed TED Talks of all time with 5.7 million views. In 2010, she was among The New Yorker's '20 under 40"; a list devoted to young fiction writers, who the editors believe are, or will be, key to their generation.
She was listed by CNN among the 'Leading Women of 2014' and was nominated for Forbes Africa 'Person of the Year' that same year and the next. In 2015, her novel, Half of a Yellow Sun won the 'Best of the Best' in the 20th anniversary of the Baileys Women's Prize for Fiction (formerly the Orange Prize for Fiction).
She was also honored with Girls Write Now Awards; Groundbreaker honouree. ARISE Magazine listed her as one of the '100 Dynamic Women' in recognition of the enormous effort she puts into her area of expertise. Time Magazine, which referred to her as a 'Conjurer of Character' listed her among its '100 Most Influential People'.
Chimamanda has never been shy to voice her opinion on anything that matters to her, At the 2022 Clinton Global Initiative University annual meeting, the celebrated author joined the former US Secretary of State Hilary Clinton in a conversation where they discussed the essential role of storytelling in finding common ground as a vehicle for representation and as an agent of change in society. "It is not enough to tell stories, we have to be willing to hear other people's stories," she said, noting that she reads the work of people she disagrees with because she wants to know what they think.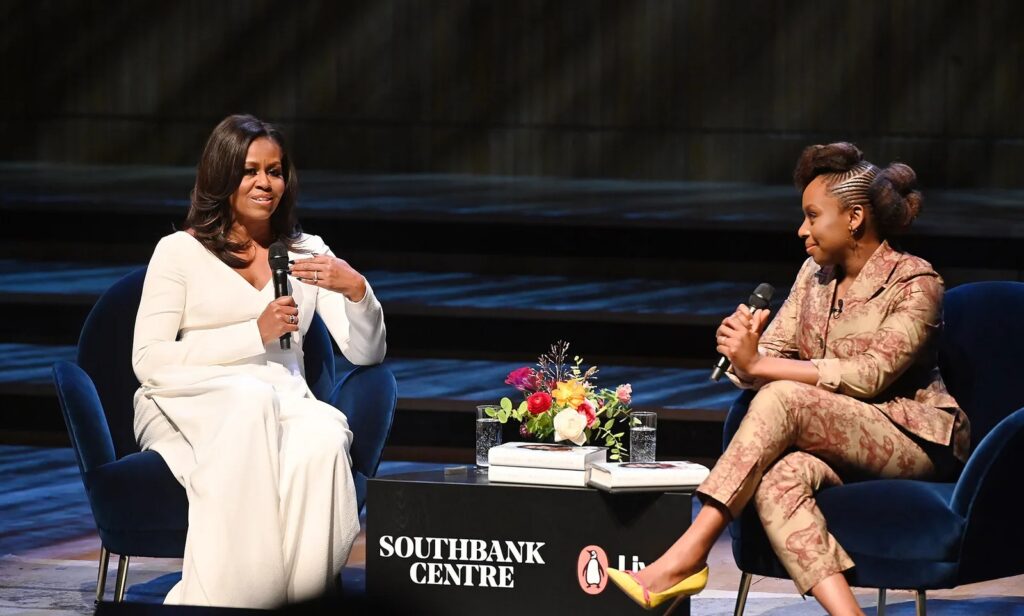 "I would say to young people, try and listen more. Tell your stories, don't be apologetic about who you are, especially when you are a person who comes from a part of the world that is not sort of considered the center".
Chimamanda is also a fashion and beauty icon. Over the years, she has consistently promoted Nigerian designers, both by wearing their outfits to major occasions across the globe, and through her 'Wear Nigerian' initiative.
She was the face of beauty brand Boots No7 and has also been featured in numerous style publications. These include Vanity Fair's 'International Best-Dressed List' and the covers of British Vogue and Marie Claire Brazil, among others.
As with her literary work, she also uses her engagement in the style and beauty industry to call attention to themes that the world easily glosses over. "I think much of beauty advertising relies on a false premise – that women need to be treated in an infantile way, given a 'fantasy' to aspire to. Real women are already inspired by other real women, so perhaps beauty advertising needs to get on board," she said when describing her involvement with the Boots No 7 campaign.
Her distinctive multi-platform position combining the roles of a writer, public intellectual, activist, fashion and beauty icon has meant that she often has to explain for the benefit of others, why a highly credible writer could also be involved with style and fashion.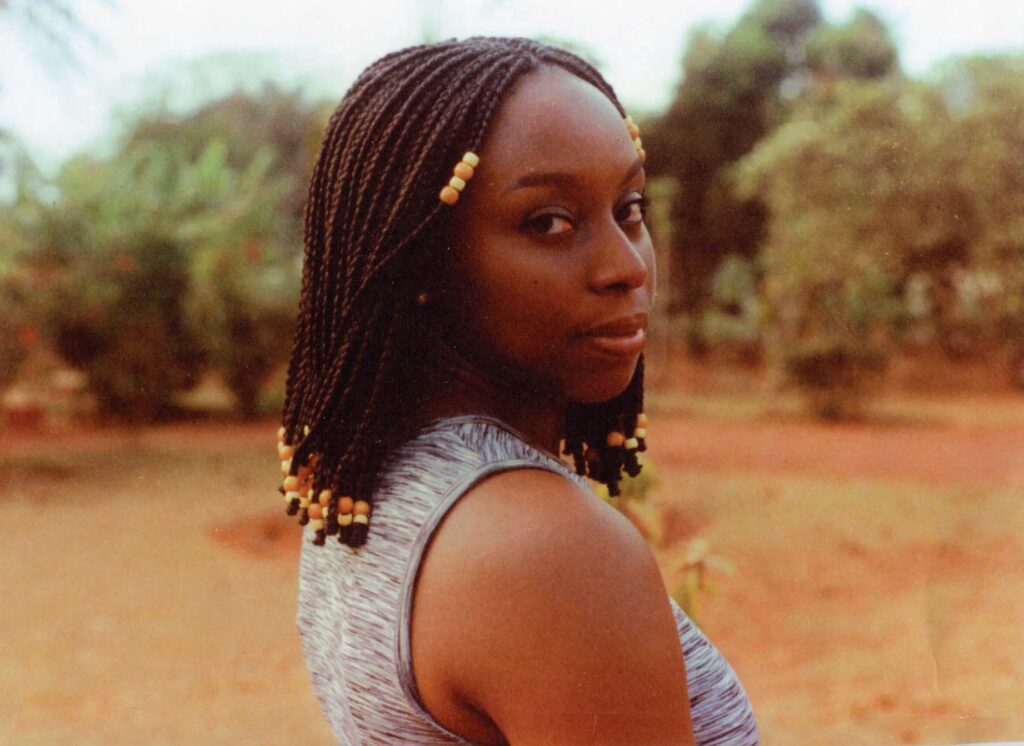 In an interview with The CUT's Ashley Weatherford, when asked why intellectual women sometimes feel like they have to apologize for an interest in beauty.
According to her, "there are many intelligent, thoughtful and innovative women who are interested in beauty and fashion, and we shouldn't have any judgment about that."
Chimamanda hopes to see a Pan-African approach on the continent. While she has deep doubts if it might be doable, she strongly believes a more united Africa, an Africa that treads more with one another will be able to change the direction of the continent to one that starts prospering and flourishing.
Though she once described marriage as a 'dangerous' institution for women; she is happily married to Dr. Ivara Esege, a Nigerian doctor based in Maryland, United States. She doesn't like to be called Mrs. In an interview some years back, she said: "Addressing me as Mrs. Chimamanda (Esega), I don't like this at all. So my name is Chimamanda Adichie, full stop".
There's no ruling out the fact that, in twenty or thirty years from now, Chimamanda Adichie will most likely be regarded as the most influential African living.