If you're ever searching for a city that has well-grounded and inspiring community advocates, Aurora has more than a quantum of them. After finally meeting Regina Edmondson for the first time at a public event several months ago, she has shown up repeatedly to every event that I have gone or thought of going to, supplying, inspiring, supporting and advocating for people in the community. When she declared for the Arapahoe County Commissioner race, I thought it would be a great opportunity to sit down with her and talk to her about her plans. Read Afrik Digest's interview with this woman who is on a mission to spread kindness wherever she goes.
AfrikDigest: Would you give us some details about you?
Advertisements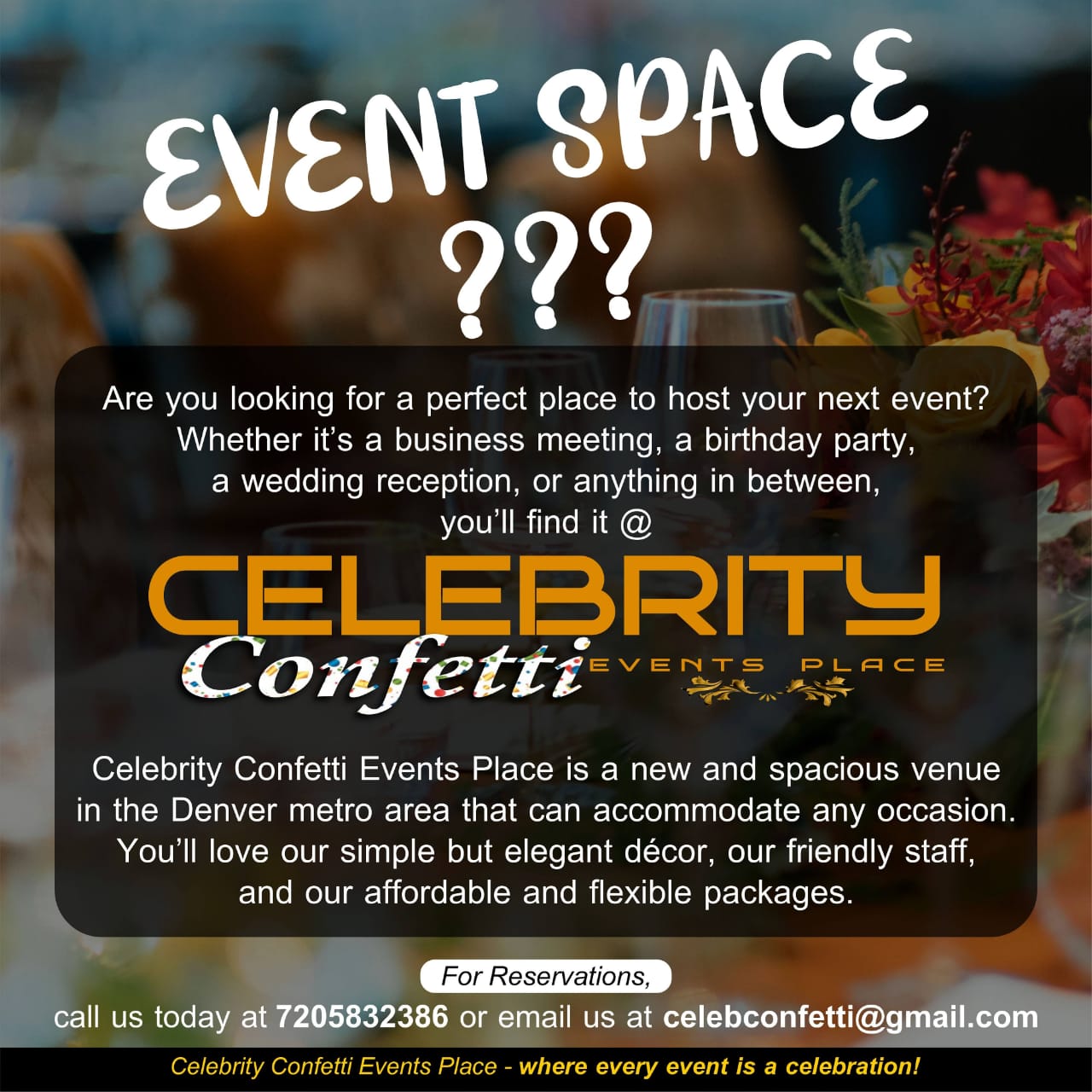 Edmondson: I am Regina Edmondson, and I am running for Arapahoe County Commissioner. I am one of a few Colorado natives who have lived in Arapahoe County for over four decades. I am a current fellow of the African Leadership Group's Leadership Africa and Public Speaking Class. I own my own business of CME Catering and Events. I serve on the board of directors for Aurora Colorado Sister Cities International. I was appointed by Aurora City Council to serve on the business advisory board. I was elected as the first African American to serve as President of the Aurora Rotary Club. I served as the Vice President of 5280 Business and Professional Women, which is an organization that supports young professionals. I advocated for women and children of color in the role of the chair of WIN (Women in the NAACP) for the NAACP (National Association for the Advancement of Colored People).
AfrikDigest: Would you tell us about your political race?
Edmondson: I am running as a Democratic candidate for the Arapahoe County Board of Commissioners, District 4. I am running a grassroots campaign with volunteers of residents, community leaders, previously elected and currently elected, supporting my campaign. I believe in reaching voters through publications such as Afrik Digest, knocking on doors, making phone calls and attending events. I am proud to have received endorsements from many respected leaders including Colorado Attorney General Phil Weiser, State Senator Rhonda Fields, Arapahoe County Commissioner Bill Holen, Aurora City Councilwoman Angela Lawson and more. Community member endorsements include Brother Jeff Fard and Pastor Thomas S. Mayes, PhD, Senior Pastor of Living Water Christian Center, Greater Metro Denver.
I think from a development level, getting resources into the hands of the community is critical, but by the same token, we need to offer those resources from the county level. I feel like there's a lot of silos: the nonprofit kind of works towards what their mission is, and the city works towards their goals and objectives at their level, then there is another tier. So, I think that it's important to build more partnerships on the county level with our municipalities and with our communities, so that we are not duplicating services or diluting resources.
AfrikDigest: What ideals are you running on and how will those ideals enhance your voter acceptability?
Edmondson: I am running on the ideals of humanity and accountability. I want to maximize our county's financial resources; enhance public safety; support community health and well-being; promote economic development and opportunities across all communities; support worker's rights and a living wage; increase engagement and communication with our community and stakeholders. I want to help establish regional and public-private partnerships addressing homelessness, substance use, suicide and domestic violence prevention, climate action, and opioid settlement allocations. I want to ensure that every resident in Arapahoe county has access to the resources they need through consistent messaging to the community in multiple languages.
I want to maximize our county's financial resources; enhance public safety by supporting more community, social and civic opportunities for our youth; expand diversion programs for both youth and adults; support community health and well-being; promote economic development and opportunities across all communities; support worker's rights and a living wage, increase engagement, and communication with our community and stakeholders. Establish regional and public-private partnerships addressing homelessness, substance use, suicide and domestic violence prevention, climate action, and opioid settlement allocations. I want to be part of promoting strong academic programs for our youth and adult education opportunities including trades and apprenticeships. Ensure accessible resources for our veterans. I want to ensure that every resident in Arapahoe county has access to the resources they need, this includes consistent messaging to the community and information provided in multiple languages.
AfrikDigest: What are you looking at fixing for the county, and how do you intend to fix them?
Edmondson: I want to help fix all that I mentioned above and more. Let's look at public safety. For me, public safety is making sure that we are protecting all our residents in the county; not just some.
AfrikDigest: With other candidates in the race, why should people choose you?
Edmondson: I have a proven record of service and commitment to Arapahoe County and it's not just when I put on a hat and say that I'm a candidate. It is showing up every day for our community and taking initiative when you see a need. Being a business owner/operator of CME Catering & Events, I supported our community when I was needed. When COVID-19 first started, I pivoted in my business and partnered with Stanley Marketplace in the City of Aurora. My staff and I were in their kitchen every day for 4 months ensuring that nonprofits and churches had 1000 meals to hand out to people who came to them for food. We worked with the Village Exchange Center in Aurora, with Pastor Vincent of RCCG- Dayspring Center, Mountain View Church, the Colorado Muslims Community Center, and many more community organizations. I will continue to work with the community in which I live and serve.
AfrikDigest: Can you walk us through how you started all the way to this point?
As a young child growing up, I lived in Lakewood Colorado. I was the only person of color in not only my class but in my school. This experience taught me a few things. I learned not only how to work across all communities but also learned what it felt like to be in a community where no one looks like you. I moved to Aurora in 5th grade and quickly became a part of the community, volunteering at local events and nonprofits, eventually working for a family-owned dry cleaner. I left college and began a career as an international flight attendant for United Airlines. I had the opportunity to travel the world, learn about many cultures and live in several different countries. After a 15+ year career, and the decision to start a family, I left flying and began to work in the nonprofit sector and in higher education. I worked in microfinance, helping business owners to secure funding for their entrepreneurial aspirations. I also helped justice-involved and former offenders access resources that would enable them to reintegrate into their communities. I partner closely with the local and business communities. I'm invested in the immigrant and refugee community and connected to our unhoused community.
AfrikDigest: You are also an entrepreneur, what specific factors or decisions contributed to your success as an entrepreneur?
Edmondson: For me it's about serving the community in the areas I am passionate about. In working in the nonprofit space and realizing the lack of resources that they experience; I always want to be a partner in that space. The line for my company is, "Serving those who serve" and this is intentional because I am community-focused and-driven. I have always had strong mentors, professional development, and continuing education in my field. All these have shaped me into what I am.
AfrikDigest: Did you have people who doubted your ambition or decisions?

Edmondson: I have never had anyone who doubted my ambitions, more the opposite. People see me work hard, honor my word and commitments, know that I am a genuine person that acts with integrity and will always put my best foot forward.
AfrikDigest: What are the biggest challenges you are facing now or have faced so far?
Edmondson: One of the biggest challenges in my life was losing my mother who died from breast cancer and my father who died from Parkinson's disease, at a time when my son was so young. Parenting without parents can be very challenging. I however found a village of 'mothers' to glean advice from.
AfrikDigest: What do you think other people should know about your journey so far?
Edmondson: I will round it up to what Attorney General Phil Weiser said about me during an event. He said some people want to be out-front and demand credit for jobs not done, and there are others who actually get the job done. He said that I am among those who get the job done and don't demand credit. That's what I want people to know about me, especially in this race. Every obstacle has been an opportunity for personal growth. I am a lifelong learner, open, honest, and acts with discipline and integrity.
AfrikDigest: May was mental health Awareness Month, what is your recommendation for the community on mental health?
Edmondson: The COVID-19 pandemic exasperated but also created a greater awareness and need of support for mental health and substance use issues. All ages, ethnicities, gender identities and backgrounds are impacted by mental health. Our youth are really struggling right now, particularly the age range between 14 and 24. We cannot depend on our school and prison systems to provide mental health services. We must be intentional in looking at accessing mental health resources in our neighborhoods. Economic stability is an area the county can enhance that supports mental health. I also recommend community mental health first aid training, recreational centers, outdoor spaces, civic opportunities and safe places for people to improve mental health.
AfrikDigest: What is your hope for Arapahoe County in the nearest future and how can the county get there?

Edmondson: I want to make a visible impact in Arapahoe County. The difference I want to make in this race is to bring in my diversity of thought based on my lived experience, and difference in perspectives based on experience. I want to see Arapahoe County continue to grow and develop into a county where people feel safe to live, work, play and raise a family; where they can enjoy open spaces and have access to resources.
AfrikDigest: We have been witnessing a spate of mass shootings in recent times. What do you think should be done?
Edmondson: It's been heartbreaking seeing families devastated by gun violence. We have to go beyond talking and moving to action. We have to continue to urge Congress to change the laws and increase firearm safety. We need to increase the age to legally purchase firearms, extend the waiting period, ensure gun safety training and promote safe storage. We need to ban bump stock and ghost guns.
AfrikDigest: What have been your motivations for pushing along?

Edmondson: Knowing the impact that I can make in Arapahoe County and having the ability to ensure that all voices are heard and represented on the Arapahoe County Board of County Commissioners inspire me to keep pushing. Also, I do many things to preserve the legacy of my parents.
AfrikDigest: How do you unwind when you're not working?

Edmondson: This ties back to catering. So, when I'm not out in the community volunteering, I'm cooking. I love to cook. Cooking for me is a creative outlet. On a broader view, I see cooking as bringing all the ingredients of a meal together, as creative components, to come up with something wonderful.
AfrikDigest: What advice would you have for other people with dreams like yours?
Edmondson: They should not listen to the naysayers but remain focused in pursuing their path. My mom would always tell me, "Parent the child you have. Don't look at your friends, embrace your own passion and purpose". I don't look at other people as a competition, I do what I am called to do. We each have a talent or gift that is needed to create a better world, so, own it, hone it, and share it!