Ma Rainey's Black Bottom drags to a different beat, and no one has any other choice but to drag on with her. Expertly performed, directed, and produced, this film brings Broadway back at a time when the world so desperately misses the stage. A thick molasses of blues that conducts like a musical, every word is a rhythm, and the actor's step in impeccable time. This production is a hard, fast lesson on the broken heart of the blues.
"You sing 'cause that's a way of understanding life."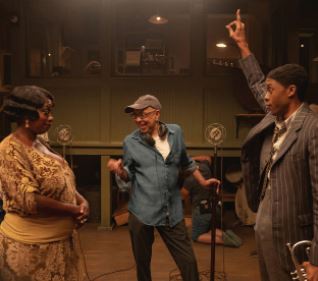 Advertisements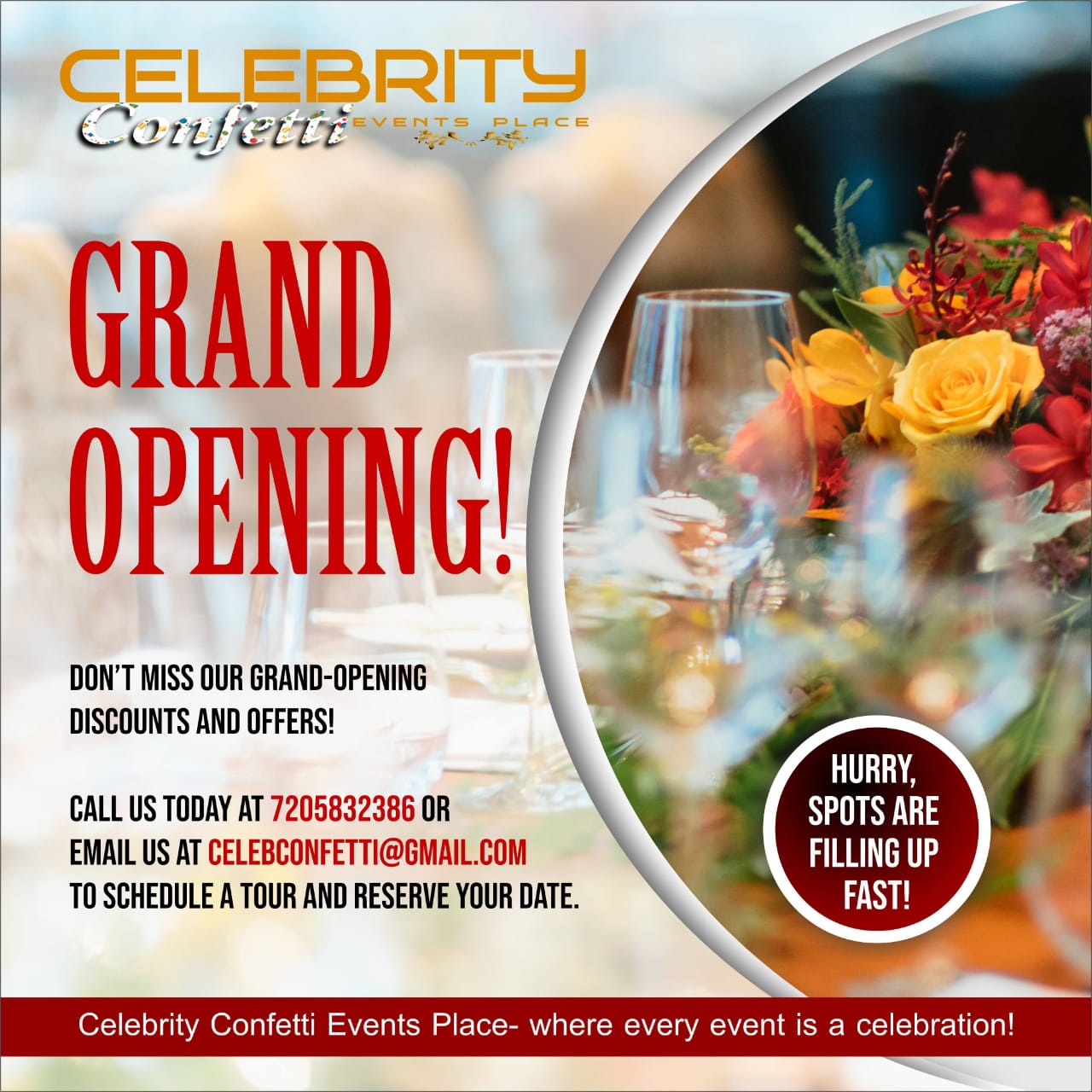 The play turned feature film is based on the mother of the Blues herself Gertrude Pridgett better known as Ma Rainey. Her music was the essence of southern grit, style, and experience. Her parents were part of a traveling minstrel show in the late 1800s which is where she may have gotten her desire to perform. Ma Rainey told every last bit of her story through music keeping it ahunnit about poverty, sex, prison,
magic, superstition, drinking, and the whiles of her travels. Let's just say, there is no Lizzo without Ma Rainey, there is no Rihanna without this mother of Blues hands down. The film captured not only the essence of Ma, but of Blues and the black experience to a T. This is the essence of August Wilson's plays.
We begin with dogs barking and two black boys running through the dark woods, you think – dang we starting like this? The boys emerge at a long line leading to a large white tent among the trees and a feeling of relief takes over. A strong sultry voice is heard singing in front of a chorus line of women, dancing to that sexy swing. You can tell everyone would give their mommas left foot to be in that audience every night. What a setting, the audience is in a mood now! Chadwick Boseman's character, Levee, is eyeing one of our dancing girls; the same girl Ma is eyeing. The young blood that he is, he jumps up in front and starts playing a different swing, but it is clear he is not the conductor of this symphony. Ma throws daggers with her eyes, and this is the tempo set for the concert of this film.
"You done seen the rest, now I'm gonna show you the best."
August Wilson writes plays for study, each word is to be picked apart, thrown against a wall to see what kind of mark it makes. We see Chadwick Boseman's character, Levee, pull at the rehearsal door to open it once or twice in each scene. It just won't open. What does it mean? What is Levee's unspoken desire to leave, almost a habit, a knee-jerk reaction that becomes a habit? These are the questions and observations a thespian is given when they see a beat, a moment like this. It is rich and full of more than what one person can perceive. It requires dissection. The tensions seem so small but through the screen, they hit like a dagger, as a Black person, it hits like a ton of brick full of knives. You understand the strain and stress, but that is the blues.
The performances allow each word to hit the cement, displaying every piece of text falling ever so slowly so we understand truly what it means. Expect nothing less from the great George C. Wolfe. A director for the culture from 'Bring in Da Noise Bring in Da Funk' to well on past it. Wolfe can pull out the heat in a room and direct it to a furnace keeping that ish hot for the camera. No joke, each character moves with his fire, his given intention for the scene. Every actor soaked in that fever and together it made the perfect stew.
"If you are gonna tell it, tell it right."
The cast brings a sweet and tangy flavor to the mix. Colman Domingo (Ali, Euphoria) plays Cutler, a man who has seen enough and believes faith's what keeps him together. His performance is cool, calm, and the perception of collect, but like any August Wilson character he is shaken, and that treble can be seen out of the cracks here and there. Coleman sits in this character well and commands space at all the right times. The same can be said for his bandmates. Glynn Turman playing Toledo brings generational thought and presence to the film. His effortless delivery and vulnerability will sweep your heart away. Michael Potts playing Slow Drag, our bassist of the group, lays down the foundation for each scene. He is the stock and ham hock of the stew. Ma Rainey is the spoon, the sauce, the drippings, and the pot on the kettle. Viola Davis's performance made me want to cut myself a switch, her glare was the backhand of every one of my ancestors, I was sweating! She dug deep into her ancestral memory to pull out 7 generations behind herself to the forefront. Glistening in the power, she stood with a hand on a hip and a firm flat foot pointed at her target. You know that stance so you better just do what she says.
Davis' portrayal whips you into shape and scolds you forever forgetting the intelligence, sharp wit, and power of a Black woman. Her poignant speech about silence has your thoughts swimming; it's in her delivery and in the direction that you see the spark in between her teeth lighting your inner conversation. The character talks about being used and finding the power in the moments before they throw you away. You're proud but it is a painful type of pride.
"This be an empty world without the blues."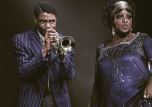 Having not read the play, every turn was like a surprise. Boseman was dancing across the scene, and I tried to keep up. He is the new cat to this old alley of a band, trying to swing the notes to a new beat. He is unrecognized for his time, too ahead of it for them, and Ma ain't having it.
His infectious smile told the story of Levee but his story at the same time the mark of an extraordinary talent flying in his element. I wish he were here to receive this praise, and I wish he were here to bless us with more.
We bear witness to Chadwick's soul in this piece. He performed like a man whose life belonged to the script, and his bones made from the brick and mortar of the stage. His tears fell like more than what they seemed. Knowing what he was enduring does add a layer but even without that knowledge, it's beyond this world what he does with this character. He becomes the thorn of the piece and shocks you right through the end.
Ma Rainey's Black Bottom is a beautiful piece of film that captures the root of theater and the very gut of Blues. Boseman and Davis give the performances of their lives and honor the spirit of all those brought forward in this piece.
Source: blacknerdproblems.com