Several African migrants were reportedly gunned down at a Moroccan border that shares very close boundaries with Spain in the Nador region of Morocco. The incident happened on June 24th 2002, and according to various reports at the time, the victims, who were shot at close range by Moroccan police, were among the 2,000 migrants that stormed a barrier between the Moroccan region of Nador and the Spanish enclave of Melilla while trying to scale the heavily fortified fence.
Advertisements
Walking Borders, an asylum and refugees advocacy organization in Spain, had stated at the time that at least 37 migrants died in the unprecedented violence, but Moroccan authorities maintained that only 23 migrants died. Individuals and organizations all over the continent have widely condemned this wicked act and have called for probes into the deaths of those victims.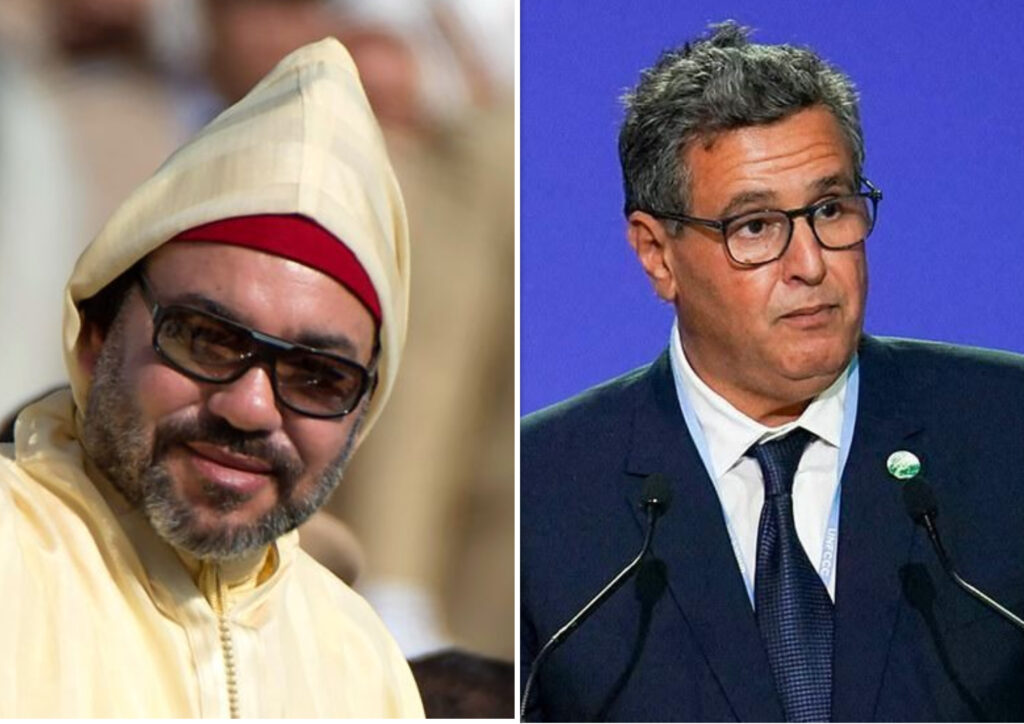 The African Youth Assembly through its Speaker of the Assembly in the West African Region, Comrade Matthew Naankin, in Jos, Nigeria condemned the killings in very strong terms and stated; "We wish to state categorically clear that the life of one African matters much to us with no reference to the part of the continent he or she comes from. The act is in contravention of the international convention on the protection of the right of migrants and workers and the members of their families as encapsulated in articles 9, 10 and 13 cum other articles of the treaty," he said.
Demonstrations to protest the killings were also held in Major Spanish cities with considerable African populations like Madrid, Barcelona and Seville under the moniker "Las Vidas Negras Importan" in Spanish or "Black Lives Matter" in English. In Madrid, demonstrators filled up Callao square and held signs that read "Borders Kill" and "No human being is illegal." In Barcelona, participants marched as they chanted against racism and colonialism.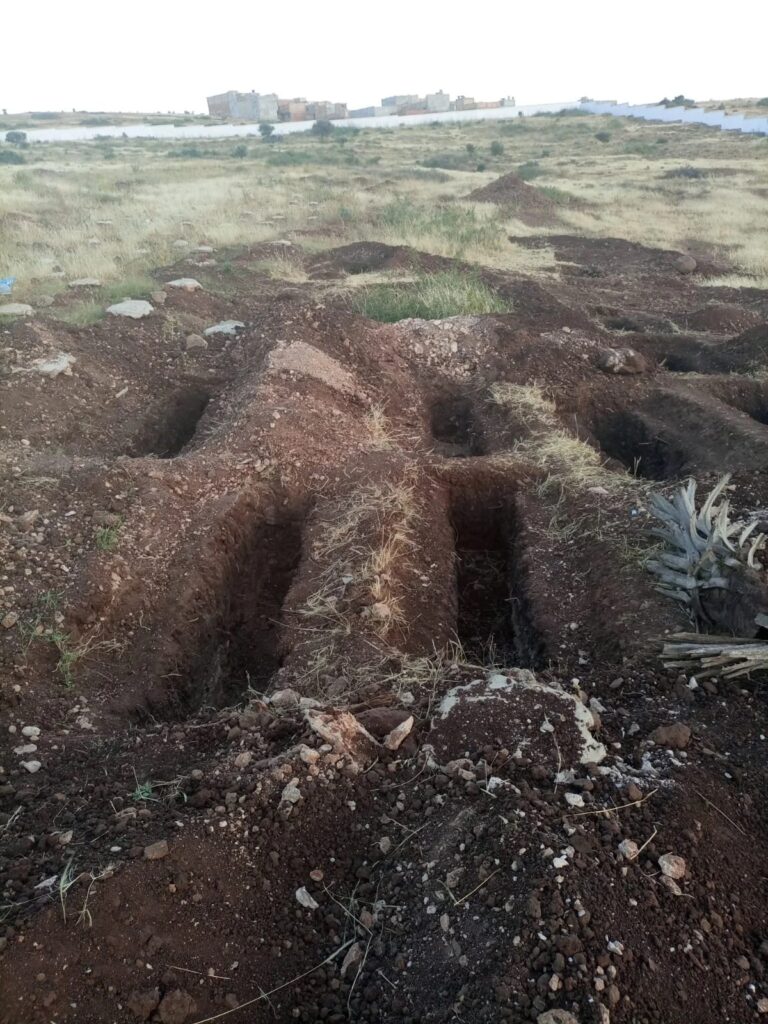 Moussa Mahamat, the African Union Commission chairman, condemned the violent treatment meted out to the migrants, reminding countries of their obligations under international law that stipulates protection of migrants' dignity and safety, and refraining from the use of excessive force.
Even in Rabat, the capital city of Morocco, more than 60 people held placards splashed with red paint, emulating blood to demand justice for the dead migrants. "We are here to express our anger about the massacre that took place in Melilla," says Mamadou Diallo, a coordinator with the Collective of Sub-Saharan Communities in Morocco. "We have issued recommendations to the Moroccan authorities, who are responsible for setting up an independent investigation to identify those responsible for this massacre, but above all for the identification of all the remains, in order to return their bodies to their relatives or to bury them in humane conditions."
Videos and Images that emerged in the days following the deaths sparked even greater outrage and condemnation by several human rights groups and officials, including the United Nations secretary-general, Antonio Guterres and the UN Human Rights Commissioner Michelle Bachelet. In one video shared by the Moroccan Human Rights Association dozens of young African men, some of them motionless and bleeding, were seen strewn on the ground as Moroccan security forces stood over them. Armed uniformed men could also be seen poking some bodies with their batons.
In another video, a group of migrants are seen climbing a fence, some hurling rocks at Moroccan anti-riot police trying to stop them. At one point, the fence collapses, sending them to the ground from a height of several meters. Further disturbing news emerged when reports broke that the authorities in Morocco had dug mass graves and may be planning on organizing hasty mass burials.
On June 26, the Association Marocaine des Droits Humains (Moroccan Human Rights Association or AMDH) posted two photographs on Twitter of what it estimated were between 16 and 21 graves being dug in the Sidi Salem Cemetery, on the outskirts of Nador, the Moroccan town across the border from Melilla. The first of these photographs was posted on Twitter by AMDH at 1:01 p.m. local time on June 26.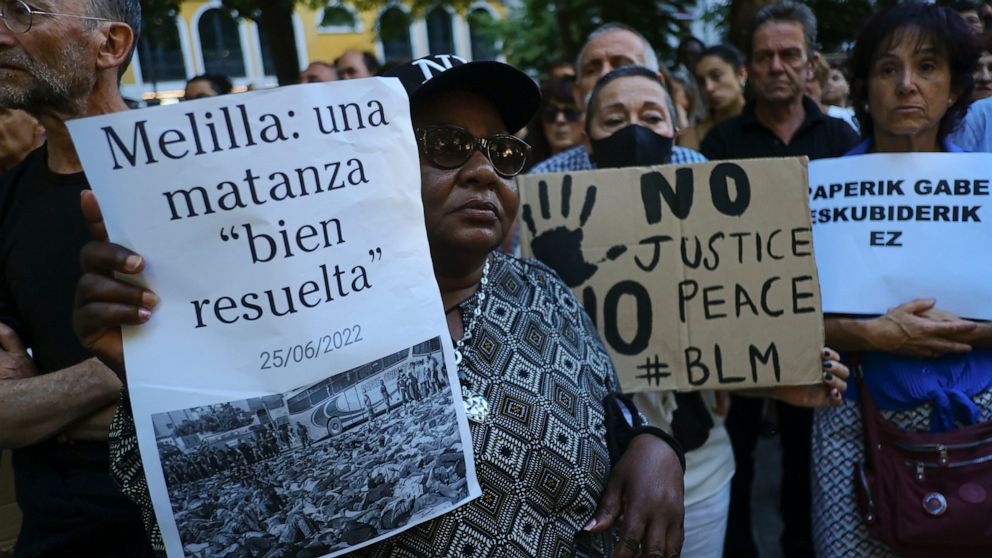 From the review conducted on those photographs, several human rights groups could identify at least 10 freshly dug individual graves, and by matching the shape of the perimeter of the cemetery, as well as buildings, trees, and landscape seen in the background with satellite imagery, the Moroccan Human Rights Association verified the exact location of the graves to be in the Sidi Salem Cemetery.
The way the Moroccan government has gone about the issue clearly shows a blatant disregard for the lives that were lost on that fateful day. While no one in their right mind will condone illegal border crossings, anyone attempting an illegal crossing still does not deserve to be shot on the spot. The European Court of Human Rights has made it clear in several cases involving border control that while states can and should take measures to prevent unauthorized entry into their territory, including the use of force, the need for border control cannot justify resorting to practices or using force in a manner that violates human rights protections, including right to life and freedom from inhuman or degrading treatment.
Morocco, which is the only African country to share a border with Europe, has long been a channel for sub-Saharan African migrants fleeing war and seeking better lives.
There have been strong claims that the North African country has allegedly been using migration flows as a political tool to pressure European countries to support its claim on Western Sahara territory, a small island country tucked in between Africa and the Middle East.
In May 2021, when close to 10,000 migrants surged across the border into Spain's other enclave, Ceuta, the Moroccan border guards took no action to stop the migrants from crossing. Instead, the action of the guards was seen as a punitive gesture by Morocco to pressure Spain for support in the political row over the disputed territory of Western Sahara.
As though bowing to the pressure, the Spanish Prime Minister Pedro Sánchez sided with Morocco and altered the country's stance on the longstanding neutrality on the dispute over Western Sahara in a bilateral accord signed in March. Sánchez hoped to ensure Morocco's cooperation on migration flow would prevent a repeat of the Ceuta incident.
Critics promptly rounded up on the Prime Minister and said the migration issue should not in any way be used for political ends.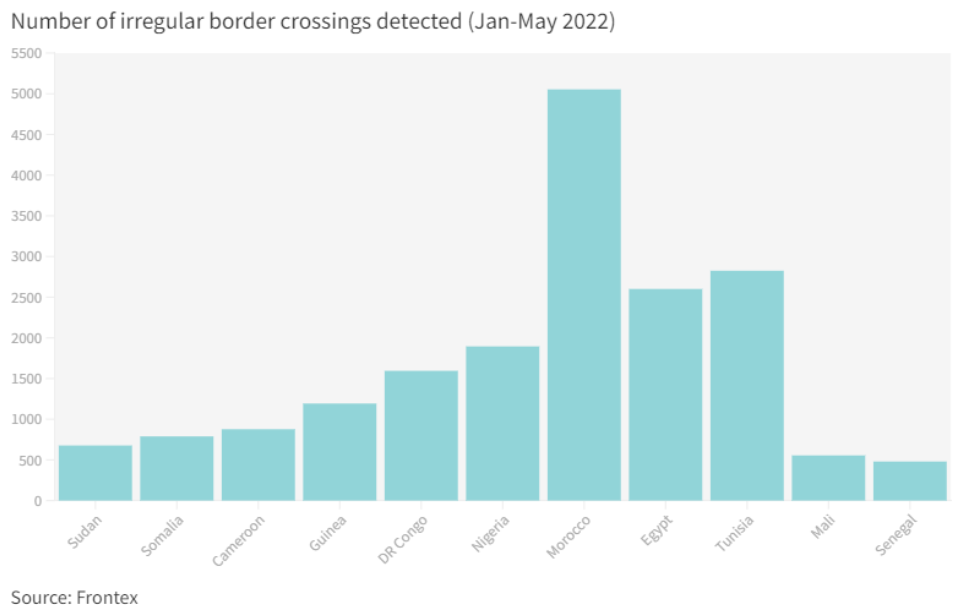 The ever rising cases of violent border policing in Europe have raised calls for African governments to stop migration flows by improving conditions for their citizens. The number of Africans who are desperate, fleeing poverty and war at home and try to enter Europe illegally en masse annually keeps rising. While this piece isn't trying to beat old drums of condemning African leaders for their inability to provide an enabling environment for their people thrive, the fact remains that wars and poverty are the biggest reasons why millions of Africans have subjected themselves to inhumane treatments just to eke out a better life in Europe or elsewhere.
Several decades after attaining independence from colonial rule, a lot of African nations still cannot manage their own budgets properly and watch helplessly as their people wallow in poverty, while many lose their lives due to poorly resourced service facilities, such as healthcare institutions.
It's no secret that 85% of African governments often make policies within their countries with the expectation of assistance or aid from the developed world. This sort of thinking has severely crippled almost every aspect of our societies. Aid or assistance is in itself not wrong, especially when there is a real need for it, emanating mostly from catastrophes and natural disasters. The pattern in Africa has however seen the majority of our leaders neglecting their responsibility to serve their people by failing to create environments that allow their people to thrive.
Until African governments and its leaders start to invest massively in Africa across various sectors that create employment and related opportunities, embrace and invest more in non-traditional business models such as sports and sporting academies, find ways to work with global partners to break various smuggler networks that currently grossly exploit young people and fashion out a way to ensure all Africans start to adopt a change in mindset, one that drives everyone to take control and responsibility for their futures, the unfortunate incident in Morocco will be one of many that will occur in the not too distant future.